Lake Lure, Chimney Rock & Asheville, NC
 The Road Trip to North Carolina…
…started with a rain storm and we drove for hours on and off with it. Â Guns N' Roses helped us to get through it.

I usually enjoy my road trip planning, doing research to look for lodging, and reading reviews for restaurants and eateries to try. Â I also like to connect with folks from the area via Twitter. Â This time I did none of those things. Â If it wasn't for the boy making the reservations, and talking to me about Asheville in general, I wouldn't have had a clue of where we were going and where we were eating or staying.
We haven't had a road trip since Wintergreen resort and that was only a 3 hours ride, so it wasn't actually a road trip. Â We were deciding between Lake Lure, Pittsburgh and the Outer Banks and since it was my birthday on Saturday 13th, my vote counted more ha!
I love beaches and the ocean, and don't get this the wrong way, but after spending time in the Caribbean in Panama, it's so hard to enjoy other beaches, I mean really, Â look at this picture (courtesy of my mom), and try to understand why I have no rush to see anything else that doesn't look even close to this.
Unless there is some white sand, turquoise looking waters, I'm not crazy to rush into any beaches. Â I did love Rehoboth, but it was more of the neighborhood/environment itself than the beach, and I wanted to go to a place that I could lay on the grass or sand and just stare at its beauty. Â So the river and the lake were the perfect place.
Yes, I'm a Dirty Dancing fan so when I found out about the stairs scene and that the lake were part of the film, I got so excited! Â Funny thing, I went to the lake only once, you have to pay to enter the "beach" and I don't even own a bathing suit so it didn't make much sense to pay $7 to sit on the sand when right in front of my balcony I had the gorgeous sight of the river. Â I love rivers, the rocks and the sound of the water rushing down, except for when you know there is a flood warning. Â Yup, we were in Asheville during most of the day and once we were on our way back to Chimney Rock, it poured, and then having a room next to the river wasn't that charming anymore. Â The good thing is that nothing happened to us, I know that some folks nearby had flooding issues, so we were very lucky.
The reason why I couldn't participate as much as I wish on the research and planning for our trip to North Carolina was because I was organizing (days and the night before) on a seminar at work, and I'm also getting all pumped up on SEO & PPC strategies and projects (but that's a topic for another post). Â So pretty much I just told the Boy "let's go to North Carolina!" and he responded: "Sounds good", and we chose that state, and I'm still sad that I couldn't visit Raleigh, maybe in the future.
The driving, oh the driving was endless, and how do people even manage to avoid eating fast food when they're on a road trip for over 8 hours? Â Yes, I could have brought my own food like I 've had in the past, but remember (work projects and events kept me away from doing lots of planning and that included the snacks for the trip) so I'm not proud of the places we stopped to get a bite or two, but I'll say this in my defense, WE NEEDED A RESTROOM! Of course, if you tell someone else, I'll deny it and you have no evidence, no 4Square Check-Ins, or Instagram pictures of such meals ha, ha! Really, please don't judge haha.
We stayed at the Evening Shade River Lodge in Chimney Rock. Â The lady in the reception area was very kind, $120 per night for our room, it was interesting that the main reason why we chose a room instead of a cottage was because of the Wi-Fi, but the Wi-Fi had a very weak signal around the lodge, we tried around other rooms and it just wasn't stable. Â I know what you're thinking, "what does she care about wi-fi when while visiting the mountains", but trust me, my data plan is horrible (Verizon took away my unlimited data and I'll complain about that until the day I die). Â Also, I was planning to stay mostly by the deck, writing and reading comics, so I was very disappointed with the Wi-Fi situation, but then Asheville happened.
I've heard about Asheville because of a few friends who mentioned about their micro breweries and funky folks. Â I'm not a beer person, but the Boy got to enjoy a few of their local beers while we tried a few restaurants. Â It was easy to drive around, everyone was very nice even when they thought we were locals ha! Â I didn't get to try their transportation system since we were driving everywhere. Â I'll tell you this though, driving from Asheville to Chimney Rock area in the middle of the night when a storm is about to hit, is not a good idea, and it was scary, plus narrow roads, no lights, and the curves, so many it would make me dizzy. Â Yet, we drove to Asheville everyday. Â We loved it that much.
What I did well prior to the trip was grabbing peaches, nectarines and apples with us. Â Those were the best snacks to have in hand to avoid the unhealthy snacking and we got to save some money that way too. Â This is a list of the places we ate at:
VegHead
Plant
La Strada
Old Europe
Ingles (I always visit a town's grocery store when visiting, it's a must)
Photos of the food and my ridiculous food-critic-wannabe descriptions of what we ate will be up on my Little Lady Cook Blog this week.
The artsy feeling and vibe in Asheville was on every single corner, we were lucky to enjoy some live music at the park. Â Every Thursday they have a band or two sponsored by the 98.1 Radio Station. Â These are a few seconds I got on Vine: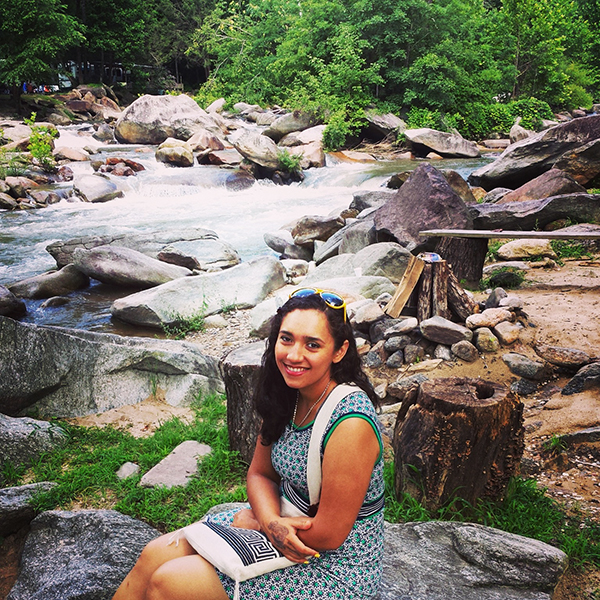 The drive from Arlington to Chimney Rock took us around 10 hours. Â We stopped three times to take breaks, and one of those was to look for pies in Durham.
If you asked me what was my favorite thing about Chimney Rock, I'd say the river and the friendliness from everyone. Â My favorite thing about Asheville was the food and the art and open culture environment you find around all the city. Â It reminded me of Portland and Seattle but with a brighter weather. Â I can't wait to visit North Carolina again, and hopefully the next time I'll be able to participate more in the planning. Â What do you like the most about NC? Â Let me know in the comments 🙂

One Comment