Social Media Week DC 2012 Day 1
So this is my first post, and it's a bit frightening to write my thoughts and ideas on a blog who carries my name a little different from posting on my food blogs or even just collaborating under the nick of "Little Lady Cook" but now I've got some courage after having decent hot tea and meeting with Lisa Byrne, if I've got something to say then I may as well share it, and folks I have plenty to say so let's see how this ride goes.
I was thinking about the different subjects I wanted to approach on my first posts and then the Social Media Week started at the same time that my blog so this shall come first.
SMWWDC Kickoff Breakfast started great, Pillsbury folks provided great variety of pastries & fresh fruits along w/ refreshments wonderful hosts (I will always look at the food in my nature folks!). Â It was also fun to meet people I've known for quite a while on Twitter and Facebook.
The screen shot shows few tweets from the Kickoff at 8 am and then the next conversation at Deloitte about "Using Social Tools to Collaborate Inside Your Organization" as you can notice I made a whole mess with hashtags but then got a grip and kept using the proper #SMWWDCÂ 
The other one someone was asking me how do you know a Tweet-Conference is successful and I answered that if there is always room for error, as well was mentioned today Social Media with it tools won't be the proper environment for control, yet it allows you to approach a rapid way to fix situations, like this small incident with the hashtags in less than a few hours the majority was using the right one.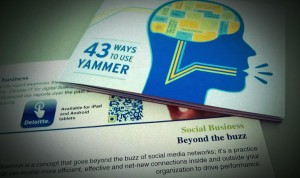 So many things were said this morning during the kickoff we had three panelists from NASA, Education, Theatre and Law and all the speakers contributed with great strokes of information, how challenging to use Social Media as a tool with teenagers, how the Theatre can use it for its advantage without losing it's essence which is at the end going to a dark place, sit, remain quiet and turn off the phone.  Jim Gatto from the Pillsbury Law Firm did few interesting remarks, from how companies should have a Social Media rules/contract as to protect both sides.
Deloitte folks were more focused on company's productivity and I really enjoyed how they broke down the Yammer (a social network for private communication within companies and/or organizations).
On this 2:30 min (first time video from my phone) I captured the introduction of Lindsey Hitchcock.
Tomorrow I'm looking forward to meet with some friendly faces and have more conversation on this one of my favorite topics next to food "Social Media"
Tschüs!